Two Pack Kitchen Cabinets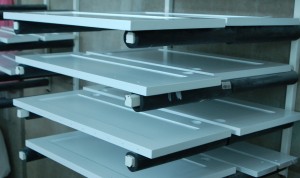 For a FREE quotation call 03 9741 6885
Est: 1994 – Celebrating over 20 years of service to quality decorative improvements.
If you are looking to upgrade your kitchen or bathroom anywhere in Melbourne, but don't have the budget to completely remake your joinery, or don't want to put up with the mess, then our 2 pack finishes are the ideal solution. Our two pack kitchen cabinet and cupboard solutions ensure that customers across Melbourne all receive the same high level of satisfaction.
Re-coating rather than replacing your existing kitchen cupboards can create huge savings on your overall renovation budget. At a cost of between $2000 to $7000 for re-coating in 2pac coatings, you can save from 60% to 80% on the cost of brand new kitchen cupboards & cabinets or bathroom vanity.
If you are considering replacing your kitchen, you need also to consider the additional costs of plumbing, electrical, painting etc. which can bring your new kitchen costs up to anywhere between $15,000 to $40,000. And there is also the disruption to your day to day living caused by managing without a kitchen while the new one is being constructed and installed. What price do you put on convenience?
Spray Painting Kitchen Cabinets
If the layout of your existing kitchen works for you, and the cabinets are in reasonable condition, then why spend money where you don't need to? Re-coat the cupboard panels, update the handles and you have instantly created a fresh new look for a fraction of the cost compared to the cost of a whole new kitchen. In addition to the cost savings is also the fact that you still have a perfectly functioning kitchen (minus doors, drawer faces and end panels) for the short duration of the re-coating process. It's a win/win situation any way you look at it.
Once removed, your joinery will be taken back to our modern facilities where the 2 pack coating application is undertaken by skilled trades people ensuring the highest quality finishes are achieved. When your items have been completed, we will then return and replace all the doors, drawer faces and end panels into their original location.
At Procoat Painting, we deliver spray painting preparation and 2 pack coating systems for our client's kitchen cabinets, that is second to none
Kitchen Cabinet Painting Ideas
In addition to kitchen refacing and bathroom joinery, we can also remove and replace your old door handles, repair any holes and fit off new handles of your choice. The removal of flawed vinyl wrap finishes are a specialty for us, we 2pac resurface the original doors and reinstall. We also supply and install colour back glass or mirror tempered splashbacks in your desired colour. Thanks to our specialised approach, we provide innovative kitchen cabinet painting ideas, and that you will find right to suit your taste and style.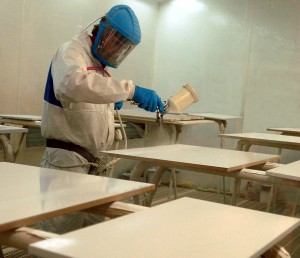 For more information on how we can help you achieve a top quality, cost effective makeover to your kitchen cupboards or bathroom joinery, please don't hesitate to contact us via email, leave your contact details and we'll get right back to you, or call directly on 03 9741 6885.
Full insurances and long term member membership of the Master Painters Association #2310.
Ranked with 'Best of the Best' in the 'House and Garden' Magazine.
ABN: 33 984 172 788     ACN: 067 349 455
Est: 1994 – Celebrating over 20 years of service to quality decorative improvements.
LET US KNOW HOW WE CAN HELP