About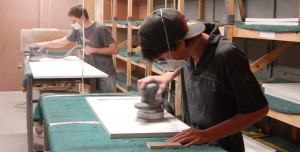 For a FREE quotation call 03 9741 6885
Est: 1994 – Celebrating over 20 years of service to quality decorative improvements.
Procoat is a family owned and operated company based in Melbourne.  As we have been operating successfully for over 20 years, we understand the value of experience and a good reputation.  To this end we ensure that all our people are highly trained and well qualified, which means you receive the highest standards in both quality of service and product.
The services we offer at Procoat are twofold as we work both in the domestic market specializing in 2 pack finishes to kitchen cupboard & cabinet doors drawer faces and panels, and in the commercial market where we also specialize in offsite 2pac coatings to builders, joiners and shopfitters.
For our domestic clients…
We offer a 2pac coatings service which is second to none.  Working directly with our clients, rather than through a middle man, ensures that your kitchen resurfacing project is completed with minimal fuss, with quality finishes at affordable prices.
Types of work we can undertake include kitchen refacing and bathroom joinery (including removal of vinyl wrap and resurfacing), and colour back glass splash backs. We can remove your door handles and repair any holes, then fit off new handles of your choice.  .
For our commercial clients…
We offer commercial 2 pack coating application services for office and retail shop fit-outs, general office and amenities for projects of both a major and minor scale.
We are long term members of the Master Painters Association of Australia and have in place all the necessary insurances and compliance documentation.
For all our clients…
We will provide:
Prompt fixed price quoting from either architectural drawings or site visitation
Efficient workmanship to ensure we meet your scheduled time frames
Premium quality materials and experienced trades people
Full insurances, long term member membership of the Master Painters Association #2310.
Ranked with 'Best of the Best' in the 'House and Garden' Magazine.
ABN: 33 984 172 788     ACN: 067 349 455
Est: 1994 – Celebrating over 20 years of service to quality decorative improvements.
LET US KNOW HOW WE CAN HELP